MLSP Sites Is Here - 11.4 Official Launch
"MLSP Affiliate Contest:
Ray Higdon's 3 Min Expert- Attraction Marketing Edition!"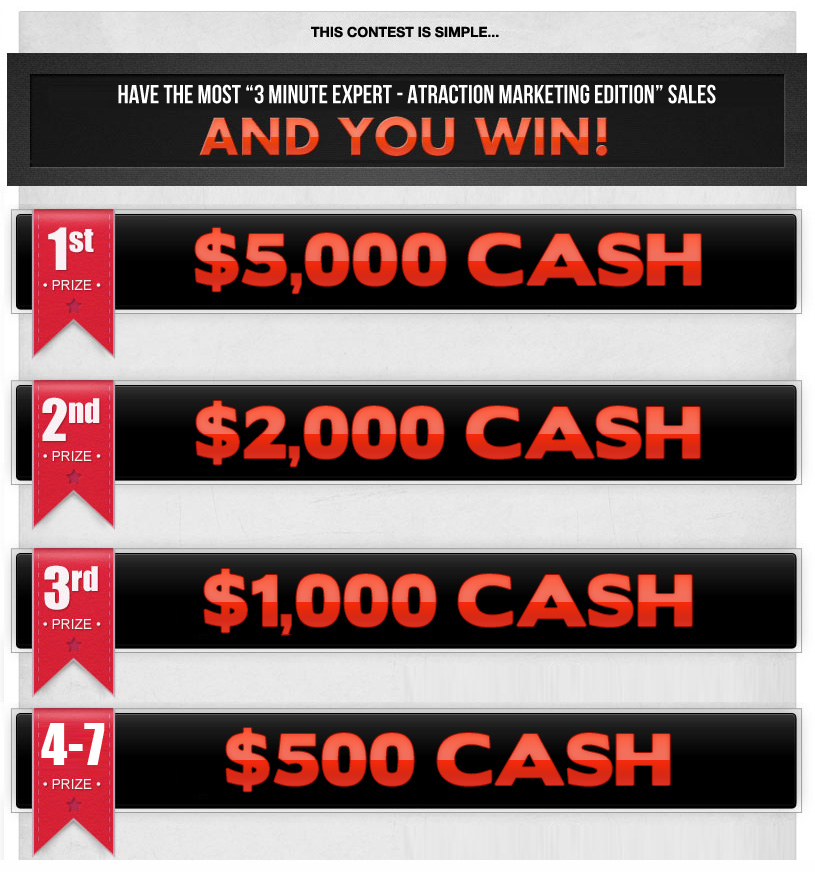 CART OPENS NOVEMBER 4th, 9PM EST
CART CLOSES NOVEMBER 11th MIDNIGHT EST
---
IMPORTANT DETAILS
The "CONTEST" is for the most "3 Minute Expert - Attraction Marketing Edition" product sales.
THE CART IS NOW OPEN for the "3Min Expert - Attraction Marketing" Edition! The cart will remain open until Wednesday, Nov 11th at midnight EST.
The affiliates with the most "3Min Expert" Sales in that time period... GET THE $10K PURSE!
Remember, MLSP SITES is now a part of the MLSP membership starting November 4th (which is amazing value for members). This contest is NOT for MLSP membership sign-ups or "SITES" accounts (again, MLSP now comes with SITES starting Nov 4th). This affiliate contest is for the most sales of Ray Higdon's "3Min Expert - Attraction Marketing Edition" product, which is now an MLSP affiliate product indefinitely! :)
You have 2 Affiliate links to CRUSH Affiliate Sales... both will work, and all clicks, leads, and sales will track back to YOU. INSERT YOUR MLSP USERNAME, and let's go change the world!
This link is the replay from this past Wednesday. This was a POWERFUL webinar, and it will make you sales:
http://YOURMLSPUSER.mlsp.com/5800-registered-replay
This link is the direct sales page for the "3-Min Expert: Attraction Marketing Edition" + 30 Day SITES Trial:
http://YOURMLSPUSER.ultimateblogbundle.com
Leverage this swipe copy & banner images below and share this amazing revised 3-Min Expert + SITES Trial Offer on FaceBook, Twitter, Instagram, YouTube, with your upline, downline, cross line, and your E-mail Subscriber list if you see value! 3ME in conjunction with the new SITES blogging software / MLSP is going to really change some lives, and help people get online and build their brand easier and faster than ever before (ZERO TECH SKILLS REQUIRED + 1 CLICK & 27 SECONDS TO SET UP A PRO BLOG READY TO GO + Higdon's blog guidance via 3ME + all the awesome LIVE webinars and hand-holding we will be doing to support your buyers to ensure their blog is set up and get them producing content... AWESOME!)
So don't be selfish - spread the love - and get paid ;)
Thank you for the support, love you, and happy marketing!
- Brian
---
SWIPE COPY
(mail daily, often, and in any order... mix & match the copy, modify as you see fit so it's in YOUR voice, and have fun!)
SWIPE COPY - EXAMPLE 1
subject: Re: Did you see? [replay] 

 My goodness! 

 We had 5,815 people register for this webinar!
 The replay already has an additional 6,365+ views. 

 I am blown away. 

 Seriously, this is going to change a LOT of things 
 in our profession. 

 We're taking this reply down on Wednesday, so I
 suggest you make time NOW to watch history 
 in the making, 

 == > REPLAY LINK 

 - Your Name

 P.S. - Not only could you get personalize Blog
 training from a 7-Fig Blogger, but you could literally
 have your own self-hosted WordPress blog set up
 and ready in less than 27 seconds (1 mouse click), here:

 == > REPLAY LINK 


SWIPE COPY - EXAMPLE 2
 subject: From Foreclosure to $1Mil in 2013 [VIDEO] 

 This is a true story my friend. 

 Ray Higdon had over-leveraged himself in real
 estate, and when the crisis hit he lost everything. 

 In fact, his girlfriend at the time (now wife) was
 paying his utility bill back then. 

 Right around that time Ray started learning a
 few things about "blogging" and "attraction marketing"... 

 And today, Ray is a well-known authority in our
 profession, and had his first $1mil yr in 2013... 

 Just 4 years after he'd been in personal foreclosure! 

 And he did it in 5 steps... and he's giving you his entire
 5-step formula here: 

 == > REPLAY LINK 

 Enjoy! 

 - Your Name

 P.S. - the link above is a replay of a webinar we held
 for 6,000+ people, and we are removing the replay 
 this Wednesday. 

 FYI: Ray built his success thru Blogging.
 And the first 30 minutes of this replay reveals how to
 get YOUR wordpress self-hosted blog online in 27 seconds
 so you can follow along with Ray as we build your blog together. 

 THIS IS POWERFUL - replay disappears Wednesday. Watch this now:

 == > REPLAY LINK 


SWIPE COPY - EXAMPLE 3
 subject: ALERT - It was a WILD Success [urgent] 

 I can't believe they pulled it off. 

 I've never seen anything like this before, ever. 

 If you've ever struggled with getting your blog online
 because it's can be extremely technical and difficult,
 I completely understand. 

 But check this out... In 27 seconds (1 click) you can literally have your very own
 PRO self-hosted wordpress blog in place to build your island! 

 And it comes with, 

 * PRO 'paid for' plug-ins pre-installed for you ($3,000 value) 

 * Premium Divi, Genesis, and pro WP themes to choose from ($1k Value) 

 * Enterprise grade hosting ($500+ / mo at godaddy)... CANCEL YOUR HOSTING :) 

 * HD 3-min tutorials to get ALL your blog & wordpress questions answered 

 The first 30 minutes of this replay will change your business forever: 

 == > REPLAY LINK 

 - Your Name

 P.S. - What's really cool is in that special replay link above, a 7-Fig 
 blogger is going to give you his 5-Step Formula to become
 an Authority with YOUR Blog in ANY niche. We are removing
 this replay on Wednesday so watch this NOW if you want to 
 take your biz (and blog) to the next level:

 == > REPLAY LINK 


SWIPE COPY - EXAMPLE 4
 subject: Become a Blog Expert + Get a Blog? [NEVER been done before] 

 Here's the deal. 

 You can get the industry's most powerful Blog Training 
 Program AND you can get your very own self-hosted 
 wordpress blog in under 27 seconds... 

 YES, zero tech skills required and your blog can be up
 27 seconds from now. It's real. 

 AND you get one of the most successful bloggers (7-fig blogger)
 to train you as you apply his 5-Step Formula to YOUR new blog! 

 Unreal. Amazing. This seriously has never been done before. 

 The only problem is we're removing this from the internet this Wednesday: 

 == > REPLAY LINK 

 You're welcome ;) 

 - Your name 


SWIPE COPY - EXAMPLE 5
 subject: FWD: Build a Business - Crush Your Blog! [replay] 

 I'll keep this short. 

 A 7-figure blogger is giving your his 5-Step Formula to
 become an authority in ANY niche... 

 I'm giving you the ability to click 1 button and have your
 wordpress blog online in 27 seconds... 

 ALL of it disappears this Wednesday, so watch this replay now: 

 == > REPLAY LINK 

 - Your Name

 P.S. - Seriously, 6,000 people registered to watch the above
 show, and it's already changing the lives of thousands of people.
 You don't have much time. And be prepared because in minute
 12, we pierced the hearts of 100% of the viewers...

 == > REPLAY LINK 
---
BANNER ADS
Right click and "save target as" or "save image as" to save these. More coming soon!